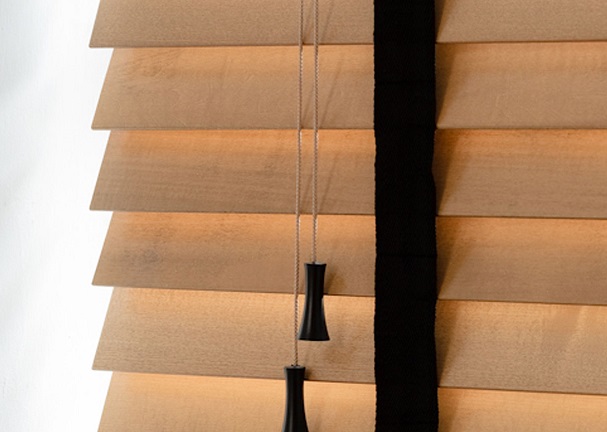 The natural look of wooden blinds adds real character to your home. Their timeless style and organic nature are perfect for both modern and contemporary spaces, adding elegance and texture to your home. Our Wood Impressions collection gives you all the design elements of a real wood blind with additional, practical properties of faux wood. Perfect for kitchens and bathrooms they are easy to clean and waterproof, allowing them to cope with lots of different environments.
All of our real wood blinds are made from premium quality hardwood, offering durability and style and our Natural and Painted wood collections are ecologically managed and harvested. For additional chic, you can choose from coordinated cotton tapes that add softness and style to the look of your blind.
Wooden blinds have a charm that will radiate across your entire room. It's the wood – it's packed with natural character. In our range, you'll find gorgeous Wooden blinds in lovely finishes and in various colors. One of these beauties is all you need to quickly and easily transform your room. What's more, you can tilt the louvres on your Wooden blinds to let in just enough sunlight. Or you can fully open and close your whole Wooden blinds depending on your mood. And of course, our made-to-measure Wooden blinds are exactly as the name suggests. Each one is made to your spec to fit perfectly.
Our wooden blinds are great-value, hardwearing and brilliant looking! They're perfect for every window. Especially so in kitchens and bathrooms, as it will last and last in the hot and humid conditions.
A great choice for every room
It will not warp in humid conditions (like bathrooms and kitchens)
Lots of wood-effect and painted finishes to pick from.